Beverly Fenerty-McKibbon Pastoral Development Grants Awarded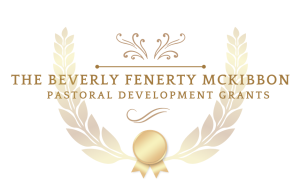 We are thrilled to announce the recipients of the 2023 Micro-Grant program. This year, we received a number of excellent submissions, making the selection process quite challenging for the committee. We want to express our sincere gratitude to all the clergy members who submitted their micro-grant applications and shared their invaluable work with us.

We would also like to announce that the micro-grants program will be named in memory of Bev Fenerty-McKibbon: The Beverly Fenerty-McKibbon Pastoral Development Grant. Bev was instrumental in Clergy Support's founding and its growth to what it is today. She devoted much of her time to advocating for social justice, in particular the Grandmothers to Grandmothers Campaign in support of the Stephen Lewis Foundation.

While the following recipients are listed in no particular order, we commend each of them for their exceptional commitment to their communities and the impactful projects they proposed:
Rev. Adele Boy – Uxbridge, ON 
$500 grant to contribute to her community project, which aims to sponsor and save the life of a young Afghan gentleman. The Taliban's threat to eradicate his tribe has forced him to seek refuge in an Indonesian camp. Adele has been providing him with online English tutoring and, along with other community members, has formed an S5 sponsorship group. They are working diligently to raise the required $16,500 to present a settlement plan to the Canadian Immigration Refugee and Citizenship Agency.
Rev. Irene Eaves – Harrison Hot Springs, BC 
$500 grant Rev. Irene Eaves will use the grant to support her initiatives called "Hearts for Life" and "Hands Holding Hope." She creates unique organza bags that are gifted to individuals in need, caretakers, and those facing challenging life circumstances. The goal is to provide these gifts as symbols of love and support, fostering a sense of community and care. Irene plans to reach out to other charitable organizations such as Ronald McDonald House Vancouver, Abbotsford Regional Hospital and Cancer Centre, and Children's Hospital Vancouver, among others.
Rev. Marie Viviane Giroux – North Bay, ON 
$1,000 grant to fulfill a need for Franco-Ontarian short story books designed for individuals affected by cognitive impairment. Her mission is to bring joy to the lives of the elderly. Through her research, she has discovered that these books should be short, easy to read, with larger font sizes, and include pictures and drawings. As a published author, Marie Viviane is now dedicating herself to writing humorous stories that the elderly can enjoy within a short period of time, allowing them to relate to their younger days.
Rev. Nancy Knapp – Barrie, ON 
$500 grant to provide computers to a high school in Nairobi, Kenya. Having taught at the school in 2014, Nancy has maintained contact with the principal. The school relies on support from individuals around the world. The funds will be used to purchase computers and cover the shipping costs to East Africa.
Rev. Jana Miller – Gananoque, ON  
$750 grant to build and create two community cupboards as part of her outreach project in Gananoque. These cupboards will provide much-needed food access to people in need. The funds will cover the construction of the cupboards and stocking them with essential items.
Rev. Nick Scime – Hamilton, ON  
$500 grant to raise funds to support Autism Service Dogs through a fundraising initiative called "Bocce Two Peas in a Pod." The funds will be used to collect 400 pounds of dog food, which will assist volunteers with the cost of training dogs as support companions for individuals with autism. The training period lasts for two years before the dog is gifted to a person with autism, and the dog remains with them for life.
Rev. Amanda Zuke – Sault Ste. Marie, ON 
$750 to support a clothing swap and drive during the Pride celebrations in Sault Ste. Marie. The clothing drive has been successful in the past, and the additional funds will help members of the 2SLBGTQIA+ community create a wardrobe that aligns with their identity. The Sault Ste. Marie & Algoma region pride festivities commence on July 16, 2023.
We extend our heartfelt congratulations to each of the recipients on their well-deserved selection. Their dedication to their communities and the positive impact they are making through their projects is truly inspiring.