Connection to Kenya
by Rev Nancy Knapp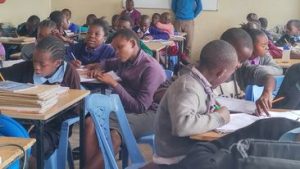 In January 2014, my husband John and I were given another opportunity to visit Kenya doing service work. We had travelled together to this wonderful country three times previously. But this would be a different kind of trip. Instead of working in the countryside, we would be teaching in one of the worst slums of East Africa.
Mathare Valley is a shantytown in Nairobi with a very high population density. One in three adults in Mathare are considered to be HIV positive. The poverty there is heart wrenching.
We worked through an NGO called Dignitas. Dignitas worked in 43 schools, impacting more than 13, 000 children. Most of the teachers working in the schools in this slum have very little formal training. Dignitas offers a three-week teacher education course, and in the time we were there, we were astounded at how well the employees at the various schools were doing given their limitations with education and materials. Some of the instructors we met were clearly just meant to be teachers. It was inspiring!
Dignitas reports that schools participating in their Leadership Institute Program "are more collaborative and open to learning, and have stronger parental engagement, learning approaches, and general leadership among teachers." (Dignitas Newsletter. Issue 8, November 2012.)
After arriving in Mathare, we were taken for a peek at a typical school in the area. Basically, the classroom we were in was a twelve-foot by fifteen-foot room and accommodated 63 Grade 7 students. It had one door, one window, a skylight, and a dirt floor. John and I were totally blown away. It made us question what use we could possibly be under these circumstances.
I did have some lessons planned, but time was at a premium as was space for any sort of lecturing of teachers or students.
But I soon discovered that Mathare could be wonderful!
After a comprehensive orientation to the AIC Zion Academy, I was assigned to a classroom. In Mathare, the children's first language is their tribal language or Kiswahili and as soon as they enter the school system, they begin learning English. Usually, by the time students are in Grade 8, they are trilingual—tribal language, Swahili, then English.
I was assigned to a Grade 6 class. The teacher had a wonderful rapport with his students and his teaching strategies were bang on. In a situation where facilities are bare bones and supplies at a minimum, it was heart-warming to see how well the staff and students were managing. I first sat in on a social studies lesson and then the teacher encouraged me to do some music with the students. The class was very receptive. We all had a good time!
We were extremely fortunate during our time in Mathare to be able to visit a cross section of schools under the umbrella of Dignitas. One of the more inspiring stories took place at Genesis Joy School. The principal there, Christopher Barassa, and I continue to keep in contact today.
Christopher finished a book on parenting in 2018 called Effective Parenting and asked me to write the introduction. The following excerpt from the forward to his manuscript gives a brief outline for the kind of teacher Christopher has become and what led him to his calling.
Christopher had been going to be a policeman like his father before him. However, after starting tutoring sessions in his home for youngsters in need in Mathare Valley in Nairobi, Kenya, Christopher realized that his calling was truly to be a teacher.
So, with his wife Beatrice, they established Genesis Joy. Christopher's wife manages the elementary panel while he acts as principal for the secondary panel. Together, they have created an unsurpassed team of educators.
As a retired nurse and teacher myself, when I first entered Christopher's office in 2014, I was impressed by his organizational and managerial skills. It was clear that his fervour for education had spilled over to the teachers under his leadership, which, in turn, was exemplified by the students under his tutelage.
As a result of my skill set, I found myself vacillating between music and medical lessons. Knowing that I would probably have an opportunity to teach around issues like sexually transmitted diseases, I did some research online for interactive examples of lessons in that vein.
I taught the lesson several times at the junior/senior level with great success. The students and teachers were not familiar with an interactive teaching style, so were very enthused with this type of format.
Christopher and his team were extremely interested with the interactive games teaching about sexually transmitted diseases. After Christopher saw what I was doing, he asked if I was going to leave the lesson plans and materials for them, which I did.
As an aside, I was very impressed with one of the schools we visited, and their lunch programme. When we inquired as to how this plan worked, the principal at the school described how a hot lunch was provided for the students every day including on the weekend. When he saw the incredulous looks on our faces, he stated that for many of the children, this would be their only meal of the day. Consequently, the teachers ran the lunch programme seven days a week. I was very impressed with their commitment to their charges.
Genesis Joy operates a similar lunch programme.
During a pick-up football (soccer) game, one teen in particular caught our attention because she was so animated with her questioning. At one point, she asked me what my favourite food was to eat. In Mathare, there is a chip (French fry) kiosk on every block. That is one of the cottage industries folks can start relatively easily in order to provide for their families. That and hair salons. So naturally I responded "chips."  She was delighted with my response and said "me too." I asked her name. She responded "Princess."
The next day I looked for Princess at the school and was told by Christopher that she was absent. Then he conveyed to me that Princess lived with her addicted parents and several siblings. Princess, as the oldest, was in charge. She got her brothers and sisters ready for school every day and made sure that there was food on the table. Princess had become the parent. I could only imagine what her future would be like living in such a society.
I continue to fundraise for Christopher and his initiatives. Most recently, and with the help of a microgrant from CSMC, I purchased a laptop and sent it to the school. There were plans to send a second computer, but Christopher requested that we submit the remaining funds to their food programme.  He said that some of the children were in such dire straits food wise that they put some of their lunch in containers to take home for later.
"Receiving this laptop is not just about the practicality of having a new device; it represents your belief in us and our aspirations," said Barassa. "This gift will undoubtedly make a significant impact on our work, studies, and daily life."
It is my intention to go back within the next couple of years to once again offer my services to Genesis Joy School.