Welcome to the Clergy Support Memorial Church
"It seems to me that the common modern definition of justice is making strong laws and locking people up if they don't follow them; but the Biblical meaning of justice is making sure that all people in a society have equal access to food, shelter, a living wage, and the opportunity to live with dignity." – Stephen H. Wright
Clergy Support Memorial Church is part of the emerging Church movement. The Church is interfaith and inter – traditional in its makeup. Our emphasis is not on bricks or boards etc as in the traditional Church. Our emphasis is on pastoral care, justice and outreach ministry to those who have no Church through Funerals, Baptisms, Weddings and a myriad of other pastoral methods. Our ministry is open to all persons no matter their gender or sexual orientation.
Our original Church became incorporated by Letter Patent May 27, 1997 pursuant to the Canada Corporations Act. It was recognized as a registered charity May 27, 1998, Registration number #887274678RRR0001.
Beginning with one minister in 1994, Clergy Support Memorial Church now has well over 560 Ordained or Appointed clergy across five Provinces, and continues to grow. Each of these ministers serve their people in a variety of spiritual ways.
Clergy Support Memorial Church is now recognized by the Governments of Ontario, Nova Scotia, British Columbia, Alberta and Quebec. Part of the church ministry is to solemnize marriage for members and non-members alike according to our church rites and usages. All marriages are religious weddings. We have administrative offices in each Province mentioned above and our National denominational office is in Ottawa.
Clergy Support Memorial Church has, as part of its mandate, the power to Ordain or Appoint. Thus, we have two categories of clergy associates that we credential. Depending on one's educational qualifications and ministry experience, one can be Ordained or Appointed to the order of ministry.
Our Church recognizes the credentials of other faith communities. Please see Standards of Ministry.
As we say above, we share our portion of the "truth" through pastoral care, teaching, counseling, chaplaincies (paid and volunteer), house Churches, and social justice projects etc. Try us; you will like us!
Please feel free to contact our chief Governing Official K.D.`Casey` McKibbon if you have questions or need clarification on any matter raised, Contact Us.
Please be aware that this information may be revised from time to time.
_________________________________
What We Believe
We here at Clergy Support Memorial Church do have a theology. A summary follows:
We believe that human beings should be free to choose their beliefs according to the dictates of their own conscience.
We believe in original goodness, with the understanding that sin is sometimes chosen, often because of pain or ignorance.
We believe that God is One.
We believe that revelation is ever unfolding.
We believe that the Kingdom of God is to be created here on this earth.
We believe that Jesus was a prophet of God, and that other prophets from God have risen in other faith traditions.
We believe that love is more important than doctrine.
We believe that God's mercy will reconcile all unto itself in the end.
We give back
Clergy Support Memorial Church is committed to giving back to the communities we serve and to the wider world around us.
Our many clergy across Canada also give back to their individual communities both financially and with their time as volunteers.
Please feel free to contact our chief Governing Official if you have questions or need clarification on any matter raised.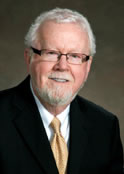 Casey McKibbon
Chief Governing Official