(Dog) Food for Thought: Raising Awareness for Autism Service Dogs Association
By: Rev. Nicholas Scime
The 10th Annual Bocce Tournament took place in Hamilton on July 30th, 2023, and was a huge success. It was organized with a noble purpose – to raise awareness for the Autism Service Dogs Association and to support the foster trainers with a supply of dog food in appreciation for their commitment in preparing dogs for this special and needed service. The event brought together various partners, organizations, and individuals who were committed to making a positive impact on the community by supporting the cause.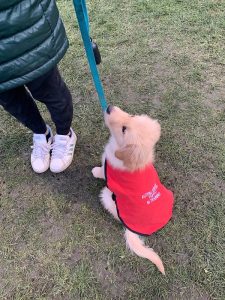 I wish to extend my sincere gratitude to CSMC for awarding me a Beverly Fenerty-McKibbon Pastoral Development Grant. In total we were able to collect 200+ kg (450 lbs) of food to support the trainers.
Thanks as well to the following:
1. Ren's Pets Store (Rymal Rd location): They donated 50 $20 vouchers for service dog trainers, allowing them to purchase essential supplies for the service dogs they train. Additionally, they offered two gift bags for Hazel and Karma, two service dogs that actively participated in the event.
2. Racalmuto Club: They donated the hall and bocce courts.
3. Hamilton Airport: Contributed by donating a gift basket for the winner of the "most dog food donated" category. Ken McEvoy, who donated eight bags of dog food, received this well-deserved recognition.
4. United Trophy: United Trophy contributed by donating trophies for the event.
5. Cupcakes Celebrity: Cupcakes Celebrity sweetened the event by donating 24 paw cupcakes. These delicious treats brought smiles to the faces of participants.
6. Bobby Allan: Bobby Allan contributed entertainment to the event, enchanting the attendees with his singing during lunch.
The six teams for the tournament were formed in a manner that encouraged new fellowships to form among participants, who may not have known each other before the game time. To add an element of fun and camaraderie, the teams were asked to represent different countries and were encouraged to dress in their country's colors.
To ensure the event was organized smoothly, the number of players was limited to 50, and these spots filled up quickly. The food for the event was prepared by myself and my wife, and included a variety of dishes such as chicken breast kabobs, pork chops, burgers, sausage, hot dogs, chicken wings, potatoes, pasta, and rice. In the spirit of community involvement, many players also contributed by donating desserts, appetizers, soda, wine, and water.
The event proved to be a tremendous success, raising an impressive 450 pounds of dog food. Participants learned more about the valuable role of service dogs in assisting those with autism and enjoyed an afternoon of fun, fellowship, and community spirit.
In the coming months, please join me for a Clergy Coffee Talk where I will share my experience in fundraising and how it can be a very rewarding part of your ministry.