Supporting Hamilton's Interval House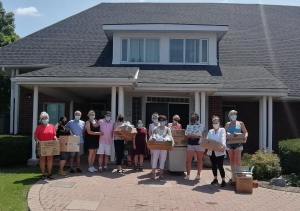 Rev. Nick Scime had a Mother's Day plan to support Interval House in Hamilton, ON. Interval House is a non-profit shelter serving women, 16 years and older, with or without children who are fleeing relationship violence/abuse. The plan was to provide the women at the shelter with an afternoon celebration and gift them gently used purses filled with personal necessities.
"My wife and I have been very fortunate to be blessed with a very full life," said Rev Scime. "We felt that it is our duty and a pleasure (starting after I retired 2012 )  to plan and coordinate five or six fundraising events a year for the community. We have many family and friends who trust us and believe in our events/projects.  It was nice to have people join us and use our passion and love of life to assist others in their time of need."
Though the project was delayed by Covid, the plan came to fruition on June 27 and was a great success.
There were 21 groups or individuals who contributed money or in-kind donations — including a micro-grant from Clergy Support Memorial Church.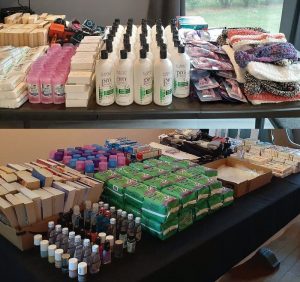 There were 80 purses filled with toiletries and other small items and an additional 15 boxes of supplies donated as well. The lunch included trays of sandwiches, sausage & peppers, pasta, chicken, salad, pastries, soda, and water, with over a dozen people cooking and baking.
"As you can see in the photos we required a convoy of cars to deliver everything!" said Rev Scime, who hopes that this will become an annual event. "Interval House was selected as we realize that sometimes a person's life, through no fault of their own, gets to a desperate place. It could happen to anyone. We all need that hug — that moment where your heart is lifted and you receive and feel unconditional love."
Here's a link to a local news story.