Rev Giffen's book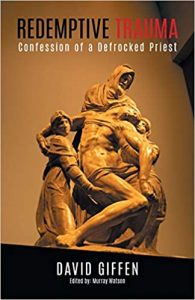 Rev David Giffen's book, Redemptive Trauma: Confession of a Defrocked Priest, was recently published by Tellwell Talent. It spent time as the #1 bestseller in its category on Amazon. You can find it on Amazon here.
Having spent a decade as an Anglican cleric in Southwestern Ontario, David served in leadership in three urban social-justice focused appointments as a priest in the Anglican Church of Canada. David was deprived of ministry and terminated from his appointment as incumbent priest of his parish on December 12th, 2018. He was in his fourth month on medical leave. David was formally accused, investigated and found guilty of sexual misconduct, all while he was drugged out, melting down on social media.
As someone working to heal from traumatic stress injuries from childhood, David's diagnosis with Complex Post Traumatic Stress Disorder in 2018 led him to become a public advocate for the de-stigmatization of mental health and addiction issues (especially when related to generational trauma). He quickly learned the challenges and opportunities this presents, as he himself is one of the examples. Redemptive Trauma: Confession of a Defrocked Priest is a memoir embracing hard truths of trauma to help others heal their own.
David holds both a Bachelor's and Master's degree from Huron University College at the Western University in London, Ontario. For most of his adult life, David served as a street-involved pastor in Toronto and London. His ministry was focused on social outreach, restorative justice, and learning to wrestle with life and faith in the rapidly evolving social media age. He is currently an Appointed Minister with Clergy Support Memorial Church.
The author is almost certain that if you don't like stories about sex, drugs, rock stars, alcohol, and the uneven rise and fall of the guilty and the innocent, you probably won't like the Bible either. Or this book. Otherwise, go ahead, dig into both.