I Am Singing My Song Over "A New Song"
By Rev Lisa Bynoe-Stevens, BASc., MDiv. Counselling, CSFT 1028-07, Certified Wedding Officiant
The day that I opened my email and read, "Congratulations, Lisa!  Your book has been published," was one of the most amazing days of my life. It was a long journey, and many late nights, to publish my first children's book. However, I loved every minute of it.
It started as an idea I first fostered at a writer's weekend workshop in Guelph, Ontario shortly after I completed my master's degree in counselling. I went to that conference on a whim, because professors and mentors often wrote, "well-written" on top of my submissions that crossed their desks.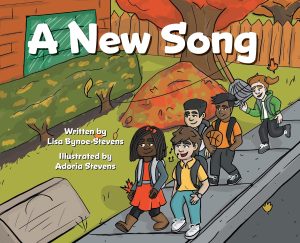 The intrigue of being a writer may fall with my father, a journalist by trade, who was also a key developer of the Barbados tourist industry. Growing up with him meant that he edited my phone messages, spat out famous quotes from all genres, encouraged me to read classics, frowned on comics, and rolled off potential advertising slogans on a whim. I have fond memories of hearing the clattering of typewriter keys in the middle of the night. Yes, I must be a chip off that block.
My dad always told me to find an angle before I write anything. Each time I wrote something, I would hear his voice saying this, and then, I would write, boldly, only caring about what was unfolding through my fingers, and excited by the discoveries along the way.
When I wrote A New Song, the creative journey began with children in a school. I decided that the first child to tell his story would be a little boy named Ben. He would reveal a story of grief, loss, foster care, and adoption, which is similar to many of my counselling clients and family members.
Since the release of A New Song a few months ago, I have received many messages stating that it is reaching kids and adults who are grieving or remember such grief. These messages are worth more to me than royalties. The book arrived at the right time to help people.
Let me add another interesting nugget about the journey to publishing A New Song: It made my adult stepdaughter, Adoria Stevens, an illustrator. I did not know she could draw until I heard my husband mention it. This gave me goosebumps as I was secretly seeking an illustrator to collaborate with me on this book, and my husband had no idea. When Adoria and I started working together, she drew what was in my head, all these years.  We discovered that, before I even knew her, she was a little girl with a dream of being a children's book illustrator. This timeline is parallel with me sitting in that writing seminar in Guelph. Now, that is a great angle to this story.
Thank you, Clergy Support Memorial Church, for taking a brave step and being part of this great story.
CSMC supported Rev Bynoe-Stevens with a microgrant in 2021 to assist with publishing A New Song. The Church recognizes the value in this type of ministry and outreach. Our children's literature needs to reflect the real-life experiences of young readers. You can find Rev Lisa's book at the following links: