CSMC Rev Publishes Volunteer Tourism Book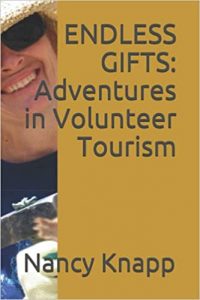 Rev Nancy Knapp of Barrie, ON has recently published her first book. Called Endless Gifts: Adventures in Volunteer Tourism, it is now available on Amazon.ca. The book is based on ten different trips as a volunteer tourist, including travel to Kenya, Jamaica, India, Ecuador and a Syrian refugee camp in Greece.
"Several years ago, my brother Jim and his family came to visit us. He began asking questions about our travels that had transpired over the previous few years. As I began to recount stories about our various adventures, he asked why I hadn't written this in book form yet," said Knapp. "I suppose the short answer is that a book seemed so daunting. I had kept fairly precise journals so, with Jim's voice in my ear, the stories took shape."
One reviewer said, "Her portrayal of 'travel volunteerism' leaves the reader with a sense of just how interconnected our world is and how even an individual can play a role in making a difference in the lives of others."
Nancy Knapp is an active clergy member with Clergy Support Memorial Church. She has a rich spiritual background, and was a Registered Nurse for 24 years and a Catholic teacher for 17 years specializing in music, religion and special education. She has traveled the world and done freelance writing on the side. Along with writing, Nancy enjoys music, amateur performing, teaching dancercise and spending time with her grandchildren.