Rev Magor's Memoir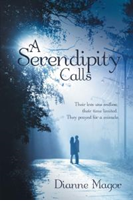 CSMC's own Rev Dianne Magor of BC published her recent book through Christian Faith Publishing. A Serendipity Calls is an intimate, true love story and memoir about two young people who fell in love and were forced to face the challenges of living with a terminal illness, and the possibility of losing each other far too soon.
About the Book
We were so young and were on an endless search for answers. Why was this happening to us? Was our love strong enough to see us through dark moments? Could we catch the joy and feel grateful for each moment we were together? And if our dreams for the future were out of reach, could we make new ones that were possible, given an uncertain future? We discovered that if we tried to stay positive and believed in our ability to get through difficult moments, we became stronger.
Throughout our time together, we attracted serendipities, unexpected gifts that arrived and gave us renewed hope and increased resilience. They were 'miracles' that appeared just at the right moment and renewed our faith when our challenges were most difficult.
The story is tragic and victorious. It is life, death and new beginnings. It changed my life and many years later as I reflect on the entire experience; my story is my serendipity to you.
Available Now on Amazon
Available Now on Barnes & Noble
About the Author
Dianne is an Ordained Minister in Clergy Support Memorial Church.  She has two wonderful daughters, three cats, a terrific family and friends.
Dianne has her Master of Education (James Cook University), Certification in teaching, counselling, rehabilitation, accreditation, criminal justice and social services.
Her diverse career which led her to ministry includes helping others with developmental disabilities, mental health issues. addictions, and life skills. Her strength has been in encouraging people to achieve their goals … to be the best they can be.
She has previously published two children's books and poetry.