Why it is Crucial for Clergy in Canada to Learn about Sex Trafficking 
By Rev Samantha Kutowy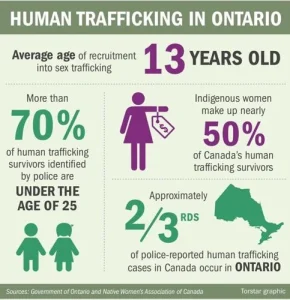 Introduction 
Sex trafficking is a grave violation of human rights that harms many people. While its existence is no secret, the comprehensive understanding and proactive response required to combat it remain insufficient. In Canada, where the pervasiveness of sex trafficking demands urgent attention, clergy members have a unique responsibility to learn about this issue. It is crucial for clergy in Canada to educate ourselves about sex trafficking and actively engage in its prevention. 
Protecting Vulnerable Populations 
The average age of victims in Canada is 13 years old. Indigenous women and girls and person in the 2SLGBTQIA+ community are at greater risk. The offender profile of consumers are predominately adult men with disposable income. Recruitment has shifted from in person to online and has increased since the pandemic began. Clergy members play a vital role in the community, often acting as trusted confidants and advocates for the vulnerable. By understanding the dynamics of sex trafficking, we become better equipped to identify and protect potential victims and reduce men from becoming offenders. It imperative for clergy members to be knowledgeable about the signs and risk factors associated with trafficking. By learning about this issue, clergy can actively contribute to the prevention of trafficking and offer support to victims who may turn to us for help. 
Providing Essential Pastoral Care 
Survivors of sex trafficking often experience severe trauma, requiring specialized care to heal physically, emotionally, and spiritually. Clergy members who are well-versed in the complexities of sex trafficking can provide the necessary pastoral care to support survivors on their journey toward recovery. By understanding the trauma and unique challenges faced by survivors, we can offer compassion, empathy, and spiritual guidance, helping survivors rebuild their lives. Education on sex trafficking equips clergy with the tools to effectively address the multifaceted needs of survivors within a safe and supportive environment. 
Raising Awareness and Mobilizing Congregations 
Clergy members have the potential to influence our congregations and communities positively. By learning about sex trafficking, we can raise awareness about the issue, dispel myths, and challenge the societal stigma that often surrounds survivors. As clergy, we can use our platforms to educate, and encourage dialogue, empathy, and action. We can also collaborate with local organizations and law enforcement agencies to support survivors and advocate for stronger legislation and resources. The mobilization of faith communities can contribute significantly to the eradication of sex trafficking in Canada.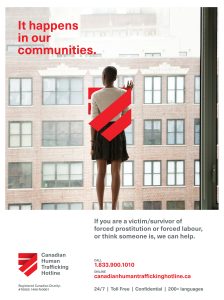 Collaborating with Stakeholders 
To effectively combat sex trafficking, collaborative efforts between various stakeholders are crucial. By educating ourselves about sex trafficking, we can engage in partnerships with law enforcement agencies, social service organizations, and healthcare providers. Our unique position within the community allows us to bridge gaps, foster dialogue, and coordinate efforts to prevent trafficking, rescue victims, reduce offenders and provide support services. Clergy members can play a pivotal role in ensuring survivors' needs are met holistically by connecting them to appropriate resources and advocating for comprehensive aftercare. 
Getting Started 
This seems overwhelming. It is and that is OK. A great place to get started is to attend the Human Trafficking Education and Prevention Webinar which is presented monthly by Victim Service of Durham Region. The next upcoming webinar is on July 27, 2023. You can find out the details here, register to attend, and find other dates. https://fb.me/e/1dGm1vrwe. 
More information about Victim Service of Durham Region can be found here: https://www.victimservicesdurham.ca/about 
The Canadian Centre To End Human Trafficking is a national charity to end all human trafficking. They have a national hotline that can be utilized by clergy to call about potential victims to assist them in getting services. The hotline number is: 1-833-900-1010 
https://www.canadianhumantraffickinghotline.ca/ 
More information about The Canadian Centre To End Human Trafficking can be found here: https://www.canadiancentretoendhumantrafficking.ca/ 
Conclusion 
Sex trafficking continues to afflict communities worldwide, and Canada is not exempt from this pervasive issue. In the fight against sex trafficking, clergy members in Canada have a distinctive role to play. By educating ourselves about sex trafficking and its impact on individuals and communities, we can become powerful agents of change. We can protect vulnerable populations, provide essential pastoral care, raise awareness, mobilize congregations, and collaborate with stakeholders to eradicate sex trafficking and support survivors on their path to healing and empowerment. It is only through collective action, led by informed and compassionate individuals, that we can strive towards a society where no one falls victim to this heinous crime.