Wendy Oke 1947-2022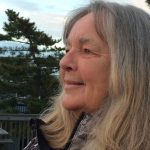 Clergy Support Memorial Church is sad to share that longtime member Wendy Oke recently passed away at her home in Utterson, ON. Rev Oke had been a member of CSMC since 2005. She conducted many weddings and baby namings/baptisms and took joy in each one. Her pastoral work reached far beyond life celebrations as you can see in her obituary below.
Wendy Louise Oke was born Wendy Louise Hamilton Feb 27, 1947 (just missing being a leap year baby) in Toronto to Barbara and Bill Hamilton.
She died on August 12/2022, unexpectedly, in the comfort of her home.
She is survived by her husband Colin Reginald Oke, daughters Kim Small and Cheyenne Wood, and son Jordan Oke; also, grandchildren, Samantha, Connor, Sophie Small and Victoria Wood and Soleiah and Juniper Oke.
If the words "Larger Than life" have any meaning, it is Wendy Louise Hamilton Oke. She touched so many lives as she went on her adventurous life journey; and, it really was an Adventure.
Teacher, counseler, Bio Energetic Therapist, author of the weekly articles Wise Women's Ways and Walk your Talk, Grandmothers to Grandmothers, Water Rights, Now Centre (women in unsafe situations), Ordained Master of Divinity, Researcher of Universal Truths, Member of the Edgar Cayce Foundation Women's Healing Circles, Muskoka Indigenous Friendship Centre, Green Party volunteer, Wedding Officiant for All Seasons Weddings, and Food Rescuer for the Table is a short list.
Her life-long calling was to spread the awareness of the Automatic Drawings of Alma Rumball. Her work is recognized throughout the world as treasures of Outsider Art. Some are in the collection of Elmar Gruber in Austria who is the world's foremost Art Collector of Outsider and Mediumistic Art. They are presently on display at a showing in Venice, and some hang in the College of Psychic Studies in London England. The bulk of her collection is held by the University of York's permanent Collection. There are over 4000 prints for People to view by appointment.
When Alma met Wendy, she told her that Wendy was the one to take them to the world. Little did Wendy know that 50 years later that mission has been accomplished.
There will be a Celebration of Life and her adventures in the near future.
In lieu of flowers the family encouraged donations to The Table Soup Kitchen Foundation.
Our most sincere sympathies to the family and friends of Rev Wendy.