Supporting Girls in Nepal
by Rev Andrea McDougall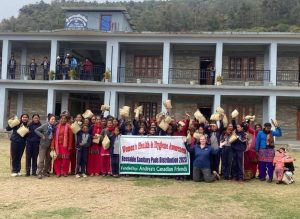 In May of 2022, I travelled with my daughter to Nepal and trekked to Everest Base Camp. It was an unforgettable experience, and I fell in love with Nepal. The country, the people and my trekking companions gave me peace during a difficult year. I wanted to give something back and through our guides I heard about a program called, 'Days for Girls Nepal.' This initiative works to eliminate the stigma and limitations associated with menstruation so that women and girls have improved health, education and livelihoods.
I decided to fundraise and return to Nepal in March 2023. After months of planning and fundraising, we arrived in Pokhara, Nepal. Through the generosity of family and friends, we were able to go to three schools in the Ghandruk region and provide 180 sanitary kits. (Each young woman received a kit made in Kathmandu containing two sets of shields, eight liners, two panties, one towel, one calendar and one small waterproof bag for after-use.)
It was a day I'll never forget! Our van was loaded up with kits and we drove several hours over rough rocky roads into the beautiful Ghandruk countryside. The schools were surrounded by winter rice paddies, new potato and wheat crops, large vegetable gardens, and blossoming rhododendron trees. At each school, we were welcomed by happy, smiling teachers and students. Our guide Koplia engaged everyone and encouraged them to ask questions as we presented the kits. The lesson included a hygiene refresher, basic self-defence and a reminder on the dangers of human trafficking but there was a good amount of giggling and all attendees were full of smiles.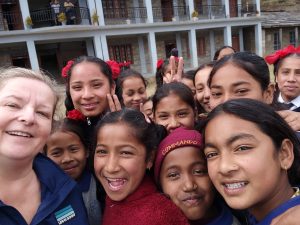 I remained in Nepal for three more weeks and trekked to the base of Annapurna with Kopila, taking time to learn about the people and culture. I'm organizing a similar trek for November 2024 and am already counting the days!