Working for Peace
My faith led me on the long journey to become a member of the Ecumenical Accompaniment Programme in Palestine and Israel (EAPPI) in 2018. This international ecumenical programme recruits and dispatches observers to Palestinian towns and villages in order to monitor the interaction between Palestinian inhabitants and the Israeli military. EAPPI's presence there is intended to offer protection and moderate friction. Abuses of authority are monitored and reported to the World Council of Churches and the United Nations.
I feel it is a privilege to act out my faith in a practical manner as peace and justice have been a concern for many years. The call to become involved became stronger over time and I felt it could no longer be ignored. Working towards peace and justice for all is my bottom line.
I journeyed to Jerusalem in August 2018 and in the course of my duties in and around the city of Tulkarm, in the West Bank of Palestine, I visited the organic farm of Fayez Taneeb and his wife Mona. With the help of their son, Oday, they continue to operate the farm which has been running for three generations.
The farm is located in an area of the West Bank in which the Israeli authority decides who obtains water and electricity and who can construct buildings. At Hakoritna farm the authorities would not allow them to pipe water to their land and in fact cut their pipes. The farm has been bulldozed many times destroying their many green houses. It was declared a closed military zone and when Israeli officials constructed a separation wall, the Taneebs lost two-thirds of their land.
There are a variety of factories producing fertilizers and pesticides located near the farm and chemical waste is leaking into their growing area. It is now impossible for them to farm on part of their property.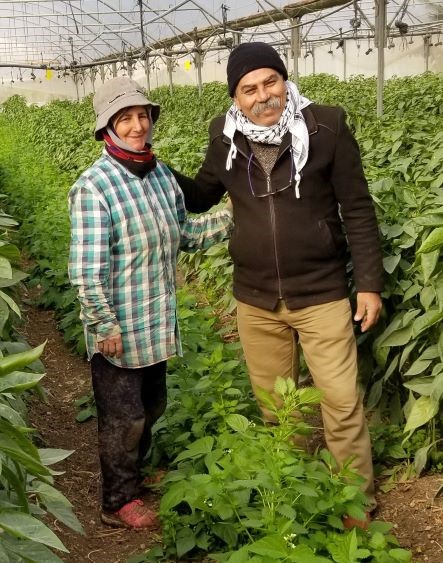 Despite these challenges, the Taneebs (pictured, in their greenhouse) have found innovative ways to grow healthy crops for their community. There is an unusual prevalence of cancer in Tulkarm reinforcing the need for healthy crops. They have 12 greenhouses and they bring in boxes of bees to help with pollination and they collect rainwater during the rainy season in large tanks. They invite people who are traveling, tourist groups, school children and university students to visit their farm and they explain what they are doing and encourage farmers to grow food organically. Should anyone be visiting Palestine, feel free to book an appointment and visit the Taneeb family at Hakoritna farm.
It is because of my personal experience with this family that I, along with other members of EAPPI, former and present, in conjunction with other organizations across Canada have invited the Taneebs to visit Canada. They will speak to Canadian farmers about their many innovations in the area of sustainability and organics. As well, they will share their experiences of living with the Occupation. Their tour will occur in June 2020 and they will visit Cape Breton Island, southern Ontario, Manitoba, and the west coast of British Columbia.
Our hope is that this sharing of knowledge will further educate Canadians about the relations between Palestine and Israel, as well as foster non-violent and creative paths of truth and reconciliation, both in our nation and the West Bank.
Thank-you to Clergy Support Memorial Church for their generous financial support in helping with the couple's expenses while they travel throughout Canada sharing their story.
Should anyone have connections or interest in arranging a speaking engagement for the Taneebs, please feel free to contact me.
By Adele Boy, Clergy Support Memorial Church