Recognizing and celebrating kindness every day
By Rev Mike Mundell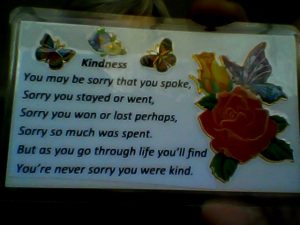 Many years ago, I read a short poem about kindness in a local newspaper. It was anonymous, so I cut it out and taped it to a picture I have of Christ in my home office. It was soon after that my cousin passed away and I presided at her funeral service in Kingston. After the service, her father (my dad's brother) gave me some money to say thank you. With that, I purchased a laminating machine, card stock, printer ink, and some butterfly stickers. I began making "kindness cards" using that verse I liked so much.
I give these cards to people who are kind — everyday people in everyday situations. It could be a clerk at a store or post office who has gone the extra mile with a smile or any person who engages in a kind gesture to their fellow citizens.
I have one in every coat and/or suit pocket and always carry one in my everyday pants pocket. When I give one I say: "I make these kindness cards at home and when I see someone who does a kindness to another, I like to give them one." I also add, "You have to earn one to get one and you just did that." Then I give them one. I give out about 200 kindness cards every year.
On one side it says:
Kindness
You may be sorry that you spoke,
Sorry you stayed or went,
Sorry you won or lost perhaps,
Sorry so much was spent.
But as you go through life you'll find,
You're never sorry you were kind.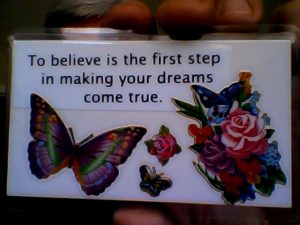 On the other side it says: "To believe is the first step in making your dreams come true" — a "soft sell" to the love and glory of God. These words are surrounded by colourful butterflies and sealed in plastic. I have never given one out that I have not received a surprised and beautiful expression of appreciation.
Giving out the cards fits into my personal beliefs: to serve the God who loves me every day, and to try and "lift someone" the same way Jesus lifted me from a self-destructive path I was trodding.
I believe it's so important to look for and recognize the small kindnesses in our world – times when one person's spirit shines through to another. Small actions do make a difference in people's lives. You may wish to make and distribute kindness cards as well, or simply speak up when you see people giving in a selfless way.
Moral:  "You can't outgive God."