John Horvath 1945 – 2022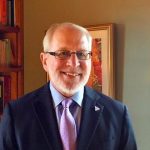 Rev John Horvath had served with CSMC since 2006. He is remembered as a caring and compassionate man with a positive attitude who loved conducting wedding ceremonies.
John J. Horvath of Caledon died on 1st June 2022 at Bethell Hospice after a short stay at Headwaters Health Care Centre.
Born in Chicago, John immigrated to Canada in 1968 due to his opposition to the war in Vietnam. He and Barbara Felts married in 1968, and moved with their two daughters to Caledon East in 1972 where their son was later born.
John shared his love of sports, music, literature, cinema, horse racing and dance with everyone he met. It formed the basis of connections that developed into many deep, lasting friendships.
He was a mentor, a confidant, a person who shared many pleasures with everyone he met. He was a proud grad of the University of Notre Dame, and a dedicated supporter of Notre Dame football. He proudly celebrated his Hungarian heritage, and passed it on to his children and grandchildren. The July 1st Bacon Fry was a highlight, anticipated each year by a growing crowd of family and friends.
John's career was with the Peel District School Board, first as a teacher, including years at Caledon Central PS. Later he was a school administrator who immediately built positive, lasting relationships with teachers and parents. In his retirement, John was a dedicated volunteer patient escort and lay chaplain at Headwaters Health Care Centre.
In his later years, one of his greatest joys was his position as a wedding officiant with a non-denominational organization, All Seasons Weddings. During a 16 year period, he officiated at over 300 weddings (including his daughter Rachel's), the last one in February 2022, days before beginning radiation for throat cancer at Princess Margaret Cancer Centre.
Predeceased by his parents, his brother, Steve, and sister, Roberta, John is survived by Barbara, his wife of 54 years, his children Jennifer (Shawn), Rachel (Will) and Dylan (Sunshine) and grandchildren Sharazade, Rostine, Stella, Weston and Ozzy, as well as extended family.
Visitation will be held at the Dods & McNair Funeral Home, Chapel & Reception Centre, 21 First St., Orangeville on Sunday, June 5, 2022 from 2:00 – 4:00 p.m. Memorial Service will be held in the Chapel on Monday, June 6, 2022 at 12:00 p.m.
Memorial donations in memory of John may be made to Bethell Hospice Foundation.